Slip Sheets, Tier Sheets & Shipping Products by Marvatex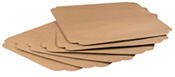 Marvatex, Inc. is the worldwide sales agent for solid fiber laminated packaging products manufactured by Fibre Converters, Inc. These packaging and shipping products include slip sheets, tier sheets, chipboard, and polyethylene coated paperboard.
In addition, we carry other products related to the shipping process. These other products include non-slip paper, void fillers, dunnage air bags, corner posts, and divider sheets.
Our experienced technicians provide customized solutions to your material handling problems.
Our product line includes a broad spectrum of Dunnage Products used in the shipping process.